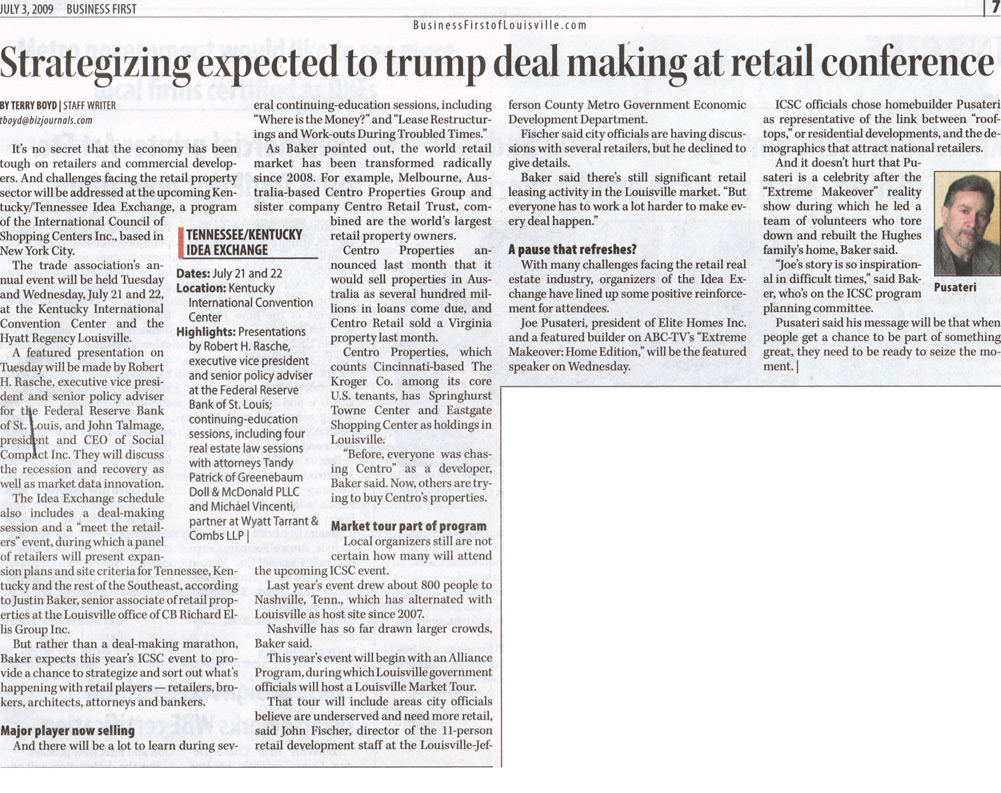 Business First of Louisville
Article By Terry Boyd
It's no secret that the economy has been tough on retailers and commercial developers. And challenges facing the retail property sector will be addressed at the upcoming Kentucky/Tennessee Idea Exchange, a program of the International Council of Shopping Centers Inc., based in New York City.
The trade association's annual event will be held Tuesday and Wednesday, July 21 and 22, at the Kentucky International Convention Center and the Hyatt Regency Louisville.
A featured presentation on Tuesday will be made by Robert H. Rasche, executive vice president and senior policy adviser for the Federal Reserve Bank of St. Louis, and John Talmage, president and CEO of Social Compact Inc. They will discuss the recession and recovery as well as market data innovation.
The Idea Exchange schedule also includes a deal-making session and a "meet the retailers" event, during which a panel of retailers will present expansion plans and site criteria for Tennessee, Kentucky and the rest of the Southeast, according to Justin Baker, senior associate of retail properties at the Louisville office of CB Richard Ellis Group Inc.
But rather than a deal-making marathon, Baker expects this year's ICSC event to provide a chance to strategize and sort out what's happening with retail players – retailers, brokers, architects, attorneys and bankers.
Major player now selling
And there will be a lot to learn during several continuing-education sessions, including "Where is the Money?" and "Lease Restructurings and Work-outs During Troubled Times."  As Baker pointed out, the world retail market has been transformed radically since 2008.  For example, Melbourne, Australia-based Centro Properties Group and sister company Centro Retail Trust, combined are the world's largest retail property owners.
Centro Properties announced last month that it would sell properties in Australia as several hundred millions in loans come due, and Centro retail sold a Virginia property last month.
Centro Properties, which counts Cincinnati-based The Kroger Co. among its core U.S. tenants, has Springhurst Towne Center and Eastgate Shopping Center as holding sin Louisville.
"Before everyone was chasing Centro" as a developer, Baker said.  Now, others are tying to buy Centro's properties.
Market tour part of program
Local organizers still are not certain how many will attend the upcoming ICSC event.
Last year's event drew about 800 people to Nashville, Tenn., which has alternated with Louisville as host site since 2007.
Nashville has so far drawn larger crowds, Baker said.
This year's even will begin with an Alliance Program, during which Louisville government officials will host a Louisville Market Tour.
That tour will include areas city officials believe are underserved and need more retail, said John Fischer, director of the 11-person retail development staff at the Louisville-Jefferson County Metro Government Economic Development Department.
Fisher said city officials are having discussions with several retailers, but he declined to give details.
Baker said there's still significant retail leasing activity int eh Louisville market.  "But everyone has to work a lot harder to make every deal happen."
A pause that refreshes?
With many challenges facing the retail real estate industry, organizers of the Idea Exchange have lined up some positive reinforcement for attendees.
Joe Pusateri, president of Elite Homes Inc. and a featured builder on ABC-TV's "Extreme Makeover: Home Edition," will be the featured speaker on Wednesday.
ICSC officials chose homebuilder Pusateri as representative of the link between "rooftop," or residential developments, and the demographics that attract national retailers.
And it doesn't hurt that Pusateri is a celebrity after the "Extreme Makeover" reality show during which he led a team of volunteers who tore down and rebuilt the Hughes family's home, Baker said.
"Joe's story is so inspirational in difficult times," said Baker, who's on the ICSC program planning committee.
Pusateri said his message will be that when people get a chance to be part of something great, they need to be ready to seize the moment.